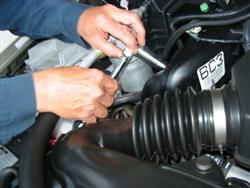 When a vehicle doesn't start, there can be a number of possibilities of what could be causing the actual problem. Are you tired of paying for repairs determined on the basis of trial and error? In order to receive the appropriate auto repair, it must be diagnosed correctly. This will eliminate potential issues that are not the real problem, and get you going in the right direction for the correct auto repairs.
2 Simple Auto Repair Tips:
1. Take time to observe what you see, hear, and feel what's happening with your vehicle.
2. Make notes (it just takes a few minutes) so that you can relay the symptoms to your auto mechanic in concise and descriptive terms.
As simple as these 2 tips sound, by heeding their advice, you will find that you will get the appropriate auto repairs that are necessary, saving you time, money, and frustration.
READ MORE