Come see us for Tire Repair!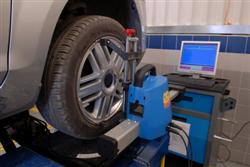 If you notice that your tires are constantly losing air pressure, or you are straightening the steering wheel while driving, it's a sure sign you need tire repair. If you know it's past time for a tire service, don't put the safety of your passengers and other motorists at risk. Make sure your tires always have the correct amount of air pressure by following a monthly tire service schedule. You will find that your vehicle will handle easier, extend the life of your tires, and restore your confidence in the safety of your vehicle.
Our ASE-certified tire specialists offer tires services that include:


Wheel alignment

Tire mounting

Tire balancing

Tire rotation

Tire inspection
Express Care Auto Center is the right place to come if you need any type of tire service for your car, light truck, SUV, import or domestic. Our tire service technicians at Express Care Auto Center will make sure you can go rolling down the road safely and comfortably!
Proudly Serving Vehicle Owners In North Mankato, MN | Mankato, MN | New Ulm, MN | St. Peter, MN